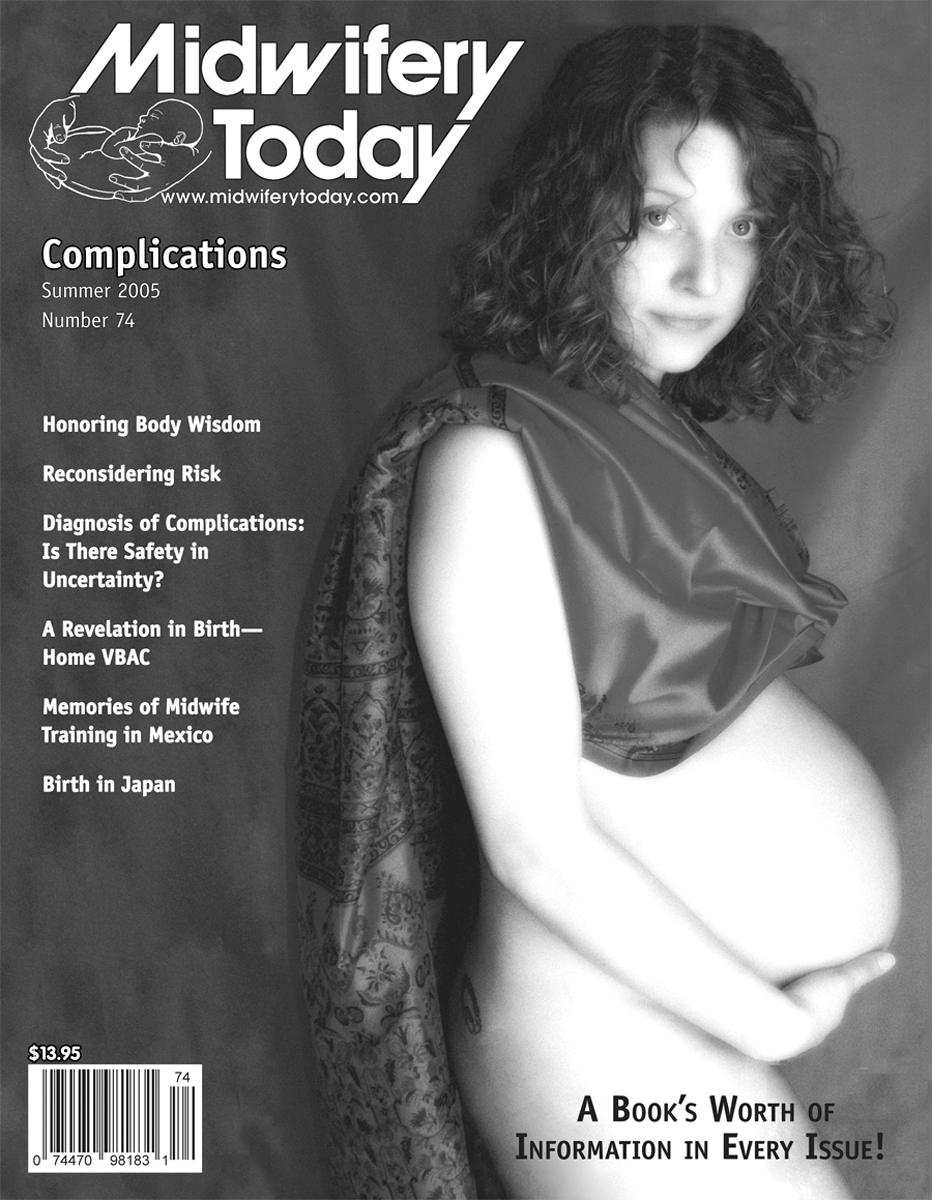 Summer 2005
Theme: Complications
Sasha, was photographed by Connie M. Ross three weeks prior to delivering her son, William. Connie M. Ross, a fine art photographer who resides near St. Paul, Minnesota, exclusively photographs expectant mothers in her business, which began several years ago. Connie plans to combine her love of photographing expectant mothers with her PhD research, which includes cultural belief systems of pregnancy rituals. She has traveled throughout the world researching cultures in more than 30 countries. In early 2006, Connie plans to travel through South America photographing pregnant moms during her 10-week trip across the continent. If you or someone you know may wish to participate in a project such as this, please contact Connie at rossco@uwstout.edu or 715-220-2402. To view more of Connie's work online, please go to www.conniemross.com
---
Departments
Poetry
Networking
Question of the Quarter
Tricks of the Trade
Media Reviews
News
Classified Advertising
Calendar
Photo Album
Putting an End to Women's Global Slaughter: Bleeding to Death—Michel Odent
Postpartum hemorrhages are almost always due to inappropriate interference. Learn why.
Honoring Body Wisdom—Pamela Hines-Powell
Who or what are we protecting the perineum from? A different take on birthing.
Reconsidering Risk—Katherine Jensen
We need to rethink risk assessment and how it is used in childbirth.
The Tragedy of Stillbirth—Jeska Vannoy
Time to shine a light on unexplained stillbirth in late pregnancy.
Diagnosis of Complications: Is There Safety in Uncertainty?—Sara Wickham
Is there safety in uncertainty? Another way of looking at the response to potential complications.
Three Surprise Breeches—Ina May Gaskin
This article discusses three different breech births and lessons learned.
Birthing Fear: The Iliopsoas Muscle—Liz Koch
A discussion of the iliopsoas muscle's vital role in the expression and resolution of fear.
Intuition, Women and Birth—Mindy Levy
As men took over birth, intuition, instinct and oral tradition were replaced. These skills are still important.
Pregnancy after Weight Loss Surgery: Can It Be Healthy?—Barbara Herrera
Can it be healthy? Learn the facts.
The Worst Had Happened…and She Survived!—Nancy Miller
The worst had happened and a family learns to live positively with HIV.
Sunrya's Birth Tale—Ahna Virginia Peace
A successful breech birth.
At Peace with the BreathMaker: An Interview with Jeannine Parvati Baker—Sarah Naomi Bly
An interview with Jeannine Parvati Baker.
The Unfolding Lap—Jeannine Parvati Baker
A Revelation in Birth—Home VBAC—Leslie Warren
The story of a magical VBAC.
Why a Midwife?—Elizabeth Davis
An excerpt from her new book Hearts and Hands.
A Story of Sorrow—Jennifer Hall
When a baby's birth does not go well, it affects a whole community.
PROM Question and Answer—Gloria Lemay
This experienced midwife gives some sound advice on what to do for premature rupture of membranes.
Mercury Rising: Warnings in Pregnancy & Infancy—Jeanne Ohm
Mercury poses a threat to babies and pregnant women.
The Business of Midwifery: The Federal Register—Linda Lieberman
Everything you need to know about relative value units and your fee schedule.
Midwifery Online: Designing a Winning Web Site—Misty Liu
Learn tips for designing a successful midwifery web site.
International Midwife
Cards & Letters
Memories of Midwife Training in Mexico, 1952–2002: Perspectives of an 85-year-old Anthropologist— Mary Elmendorf
Perspectives of an 85-year-old anthropologist.
Searching for Lost Treasure— Marina Lembo
A lesson in midwifery in Argentina.
The Temascal (in English and Spanish)— Sarah Proechel
The traditional Mesoamerican sweat bath and its perinatal uses, written in Spanish and English. The Spanish version may be found here: https://midwiferytoday.com/mt-articles/el-temascal-chuj/
Birth in Japan— Brett Iimura
Navigating birth in Japan requires confronting the medical model.
Anitha's Birth— Suma Starkie
The third in a series of stories of birth in India.
= Membership Article